Design Darling Mackenzie Horan Gets Married on Nantucket
Creator of the Design Darling blog, and the face of her corresponding 128k-strong Instagram account, Mackenzie Horan knows what she likes (navy, monograms, stripes, decorating, and travel top the list!). So when we heard that she also likes Sperry Tents, and that she and her fiancé, Will, wanted their wedding reception under one of our canopies on Nantucket, we were thrilled. Today, we're equally thrilled to share their wedding from start to finish, with a reception setup by our licensed provider Nantucket Tents and images by Cameron & Kelly Studio.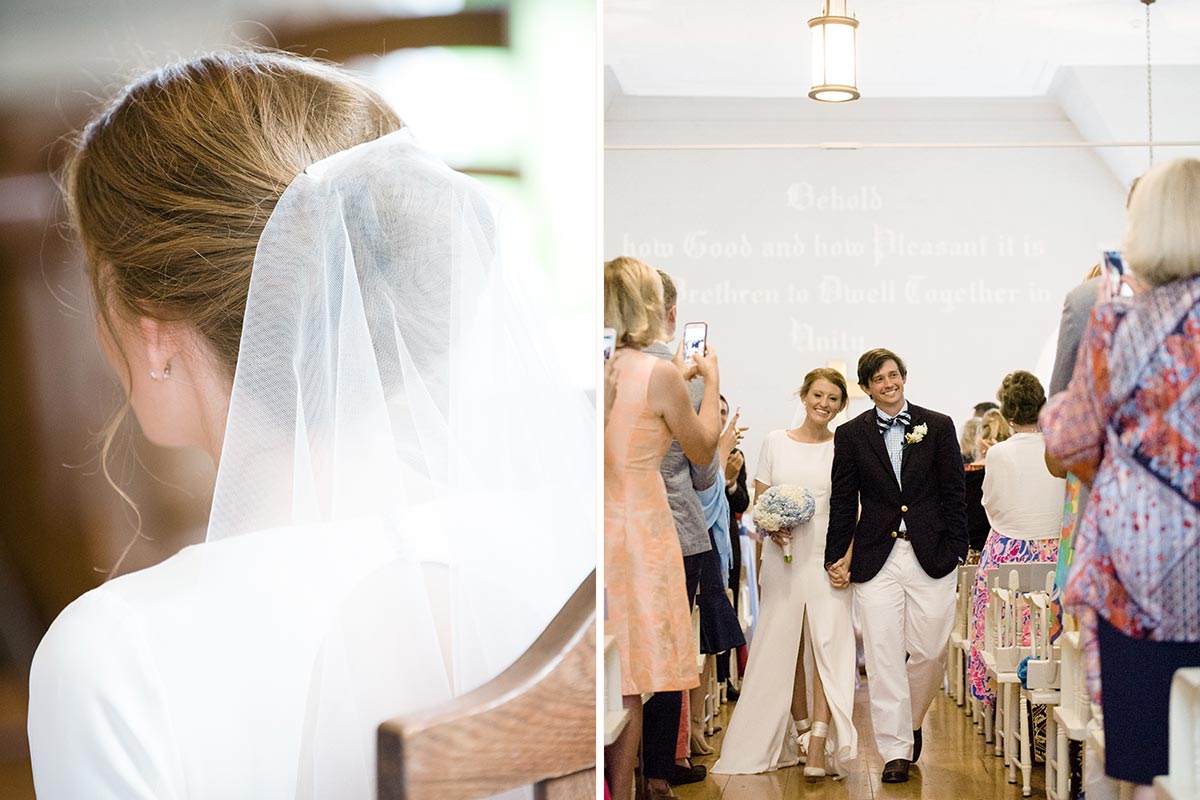 Mackenzie and Will's blockbuster Labor Day wedding began with their ceremony at 'Sconset Chapel, where Mackenzie's own parents were married in 1986. The couple's cockapoo Rory was the ring bearer, and after a lovely ceremony, the newlyweds exited the church to a crowd of bubble-blowing, cheering guests. Then comes one of our favorite parts: a fun and festive mini parade from the chapel to the reception at the Summer House Beachside Bistro.
More of our favorite details are the linens with navy stripes under the 46′ x 86′ reception tent; the Summer House setting, complete with pool water preceding ocean water; and the Krazy straws custom ordered with ACK and M&W for cocktail hour. Plus, Mackenzie's beloved "Grandy" killed it on the dance floor, and the bride wowed everyone one last time with a custom jumpsuit for the sparkler exit and after party.
Truly, you'll want to read Mackenzie's very personal blog post about her own wedding here, see the wedding video by Inkspot Crow here, or peruse the hashtag #missnewbeutty on Instagram for inspo there. You'll also want to check out the Design Darling's rehearsal dinner and welcome party too! (Style Me Pretty featured the wedding as well.)
Last but not least, the style maven shared with us her advice for planning a successful outdoor wedding, which is up on the blog now. Congrats Mackenzie and Will! We loved being a part of your special day. 🙂
Setup: Nantucket Tents | Images: Cameron & Kelly Studio | Planning: Caroline of Milly & Grace Weddings | Venue: Summer House Beachside Bistro | Wedding Dress: Sarah Seven | Bridesmaids' Dresses: A Little Something White | Band: Sultans of Swing